In the sixth free expansion since its launch in April 2004, City of Heroes introduces a number of innovations and improvements for the players to enjoy.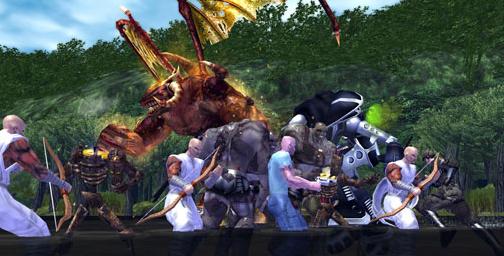 All New PVP Zones!
Along with the player-vs.-player action in each of these new zones, players may also choose to partake in hazardous missions; the risks are higher in these zones but well worth the effort!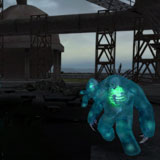 Bloody Bay
Hero vs. Villain
Minimum character level to enter: 15
Scientists are looking for fragments of the meteor that destroyed the island of Bloody Bay. These valuable pieces, they believe, hold the answers to the mysteries of the Shivan.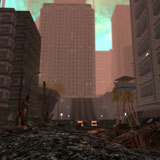 Siren's Call
Hero vs. Villain
Minimum character level to enter: 20
A major breach in the Paragon City War Wall has created a beachhead for a villain invasion. Join the forces of the Freedom Corps in battles waged against villains and Arachnos troops to defend the city!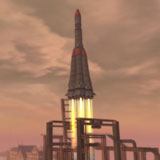 Warburg
Free-For-All Battles
Minimum character level to enter: 30
Players investigate the subterranean Web Complex searching for the codes that enable the launch of a powerful weapons satellite system. Successful missions reward players with temporary powers like the ability to call down a missile strike from space!
Gladiator Battles ' Arena (only)
An entirely new way to game has come to Paragon City! Located throughout the city are all new Gladiator Badges. Once players earn their badge(s), they may enter the Arenas to compete in Gladiator Battles. The badges themselves have the unique ability to transform into controllable minions within the Arenas. Compete against other Gladiator teams for ultimate bragging rights!
Super Group Improvements
All new rankings and permission systems enhance the management and membership of Super Groups. This includes special badges only obtainable by Super Group members. In conjunction with the launch of City of Villains, the City of Heroes Super Group members will have the ability to collect Salvage and earn Prestige that counts toward the construction of their Super Group's base. NOTE: Players must own City of Villains to actually build a base.
Graphical Improvements
The world of Paragon City will become even more dazzling as a series of graphical improvements are applied on a citywide scale! From water diffraction to bloom effects and depth of field enhancements, the Heroes' world has never looked better!
New Technical Enhancements
With Issue 6, City of Heroes supports 3D sound and Dual Core CPU technology.
Quality of Life
Drop-down menus will be found in the Character Creation UI. Players will now have 20 letters to use in naming their characters. Player-to-player trading and pet management will now be quicker and easier.