The new generation of heroes knew they would find chaos in Paragon City. They knew they would find the wreckage of war, the cruelty of the wicked, and people badly in need of aid. They didn't know the half of it. Now, new threats reveal themselves. The heroes must journey beneath the streets, where an ancient evil lurks. And they must travel to a twisted realm beyond this dimension, to confront: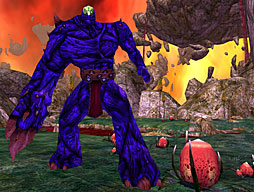 2 New Zones:
The Hollows – A subterranean realm beneath the city holds dangers beyond imagining – and a gateway of almost limitless power.
The Shadow Shard – This deadly dimension is a mystery badly in need of solving, but at what cost?
New Villain Groups:
Rularuu – Battle massive Brutes and fearsome Sentries in your efforts to learn about the Shadow Shard.
Igneous – Face deadly Pumicites and molten Magmites in the Hollows.
Trials:
Terra Volta – In the devastation following the Rikti War, the Terra Volta reactor is Paragon City's sole source of power. Unfortunately, the villains know this all too well.
Eden - Battle the Devouring Earth and free captured heroes before they become the Devoured.
Cavern of Transcendence – Discover what lies at the core of The Hollows.
Mission Enhancements:
New custom mission artwork – See the marks the many strange villain groups have left upon their surroundings.
New mission gameplay features – Smash stolen weapons to smithereens. Use teamwork to bypass Crey's security protocols. Seek the key to the Outcasts' inner sanctum – but watch out for the wandering patrols!
Features:
Power Re-specification – The Terra Volta reactor has been running beyond full capacity for quite some time. Heroes who venture within it may experience untold side-effects.
Capes at level 20 – Only those heroes who prove themselves worthy may wear this symbol of heroic might.
Effects at level 30 – New visual effects add a whole new dimension to your character.
Badges – Explore Paragon City and achieve badges to proudly display your accomplishments to other heroes.

Many Quality of Life issues, including:
Sidekick system – Sidekicking is now easier and more convenient than ever.
Enhancement Inventory – View, remove and trade enhancements more easily.
Give – Trade Inspirations or Enhancements quickly and easily – even during combat!
Looking For Groups across zones – Put together a crack team on the fly.
Teleportation\Resurrection confirmation – Confirmation windows put the power in your hands.
Email Notification – In game alert when you receive email.
Change Team Leader – Change your leader after team formation.